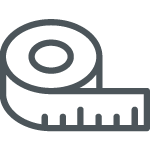 For our tablecloths
In order to choose the right length of tablecloth, it is necessary to know the size of your table.
Then, we advise you to add between 20 and 40 cm on each side of the length of your tablecloth to have a nice fall.
In general, the number of place settings corresponds to a table size and therefore a tablecloth size.

We count more or less a space of 60 cm for each guest.

Let's take the example of the bistro table with a dimension of 80×120 cm. The bistro table can seat 4 guests.  
Our tablecloths are available in 4 sizes:
Natural reminder: cotton is a natural vegetable fiber.
The size indicated is in final format and therefore takes into account the natural shrinkage that occurs at the first wash.
There is no need to take a safety margin, everything is already calculated!
In duo or solo?
Opt for the "head to head" table runner, the place mat or the fabric cuts…

For the tables out of the ordinary…opt for the fabric cuts…